Deep in winter, the urge is to hunker down and protect what you have until spring. But at Ecotrust, we are searching for greater connections. February is all about speaking up and starting new conversations. Interested in creating a more resilient future? Let's talk.
---
Our new niche in the blogosphere
Today we launch our new blog, creating space for ideas to unexpectedly cross paths, as we write about about our work and others' at the juncture of social, environmental and economic wellbeing. Mix enough fresh thinking and previously unthinkable innovation can emerge. Journey with Ecotrust founder Spencer Beebe in The Magic Canoe, a column featuring notes from his travels around the world, catch the word on the new economy from Kristen Sheeran and colleagues in the E3 network, and listen to podcasts from our friends working around the world to create a more natural model of development.
We welcome story ideas and your comments. Join the conversation or email our editorial team.
---
The future we want — in all corners of the world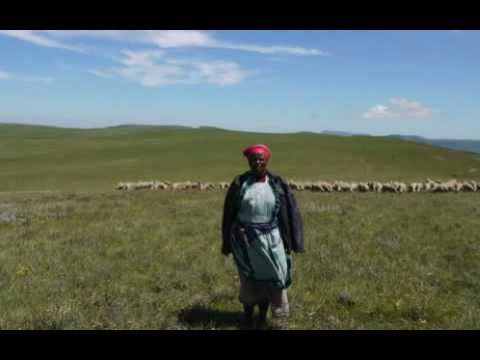 From Cape Mendocino to Cape Town, Ecotrust's growing international network of community innovators is sharing ideas and building stronger connections between people and place. Born out of the Portland Convening, a gathering of forty-four regional leaders from around the world in September 2011 here at Ecotrust, the group is working together to create solutions to better address climate change and other pressing global concerns. Leading the charge is South African Mpumelelo Ncwadi. Trained in engineering and business, Mpumelelo works to restore the grasslands of his native Eastern Cape region while adding value to local wool farmers' operations. In December, he spent three weeks here in Salmon Nation as an Ecotrust fellow, studying the organization and talking with ag innovators and potential wool buyers at clothiers Patagonia, Nau and Pendleton Woolen Mills. His approach is all about building relationships and he spells it out here, starting with an Xhosa greeting.
---
Speaking out for ocean planning
The ocean hosts a dazzling web of life, but did you also know it contributes 2.3 million jobs and $138 billion annually to the nation's economy? It's foundational to life here in the Pacific Northwest and coastal regions everywhere, and it deserves careful management under one national framework. In the Oregonian this week, Ecotrust's vice president for fisheries Ed Backus urges leaders nationwide to get behind the draft National Ocean Policy.
Working from a single, science-based playbook would build a new era of collaborative ocean management as federal and state agencies tackle challenges like coastal development, fisheries decline and ocean acidification. Comment on the National Ocean Policy and read more about Ecotrust's fisheries work.
WHAT WE DO
Ecotrust's mission is to innovate, invest, and inspire in ways that create economic opportunity, social equity, and environmental wellbeing. Learn more —›
---
CONNECT WITH US
---
NOMINATE
Nominate an indigenous leader! Know a tribal member working to create social, environmental, and economic wellbeing where they live? Click here.
---
NEW ISSUE
The spring 2012 issue of Edible Portland magazine, published by Ecotrust, hits the shelves on March 5th.
---
EVENTS
FEB 24: Author Juliet Schor on real jobs and true wealth -
Illahee Lecture - 7pm @ First Congregational Church
MARCH 5: Stories of Trust: Calling for Climate Recovery - film screening, discussion and reception | 6:30pm @ The Natural Capital Center
MARCH 6: Celebrate Racial Equity in Action | 5:30pm @ The Natural Capital Center
MARCH 21: River City Confidential: The Willamette River's Pollution Story Revealed | 7pm @ The Natural Capital Center

Ecotrust hosts over 500 meetings, conferences and parties each year in our building. Book your upcoming event with us!